---
This article is a failure, and should be deleted.
Please add to this article, or it may be deleted.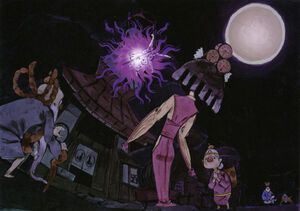 The Sacrificial Arrow was an arrow sent at the same time each year by Orochi to mark the house of the maiden he had chosen to be his sacrifice.
Click here to show/collapse spoilers→
On the year that Orochi had selected Kushi to be the sacrifice, the arrow sent to mark her house nearly killed Mushi. Fortunately, since Mushi's dog, Hayabusa, had been forewarned of this, he pulled Mushi out of the way of the arrow.
| | | |
| --- | --- | --- |
| | Spoilers end here. | |
Trivia
Strangely, the arrow's tail resembles that of an Exorcising Arrow.
Ad blocker interference detected!
Wikia is a free-to-use site that makes money from advertising. We have a modified experience for viewers using ad blockers

Wikia is not accessible if you've made further modifications. Remove the custom ad blocker rule(s) and the page will load as expected.