Rei
Talk

0
620pages on
this wiki
---
"
Seeing Princess Fuse's smile gives us new strength.
"

—Rei
Rei
(礼狗
?
;
Reikō
;
dog of propriety/dog of etiquette
) is one of the
Canine Warriors
.
Description
Rei is a pointer with white fur and light green markings. He also holds one of the eight Satomi Power Orbs known as the Honor Orb, on a pale yellow scarf on his neck, lighter than Shin's scarf. The honor orb is the is a bright green like Rei's markings.
Story
Click here to show/collapse spoilers→
Background

Rei is one of the protectors of the Satomi household, whose last surviving member is Princess Fuse. Before her, Rei and the other Canine Warriors' master was Yatsu, Fuse's husband. Yatsu loved the Canine Warriors and spoiled them as puppies. Eventually some of the other Canine Warriors went their separate ways, but Rei, alongside the remaining warriors, promised to come back together when required, because "although they were apart, their hearts beat as one"[Citation needed].

At some point before Amaterasu arives in Kusa Village, Rei and the others went to different parts of the village again, other than Chu, Gi, and Jin, who left Kusa Village and wouldn't return. Amaterasu finds Rei after using any form of Cherry Bombona wall and feeding him meat. Afterwards, he goes back to Princess Fuse.

Rei doesn't have an important role in Ōkamiden; instead, he, alongside the other Canine Warriors, moved to the Playhouse at Sei'an City with Princess Fuse for acting.
| | | |
| --- | --- | --- |
| | Spoilers end here. | |
Bestiary entry
"'Rei' stands for 'honor'.
Honor calls for careful moderation when dealing with others.
If we lose this sense, we rush headlong into chaos."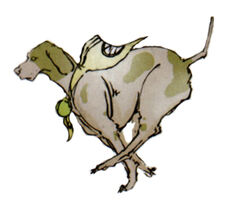 Strategy
After defeating Ninetails, Amaterasu can challenge the Canine Warriors, renamed Kusa 5, at the Gale Shrine for Stray Bead #35. Rei appears with Shin, Chi, Ko, and Tei, in the first wave. They all share the same attacks. Rei's main attack is activating his Honor Orb, making him mostly invincible, and repeatedly and quickly charges at Amaterasu until the orb stops glowing. His attack can be predicted as he howls beforehand. Using Veil of Mist while he is charging allows an opening to attack him that normally wouldn't exist. Once the Honor Orb stops glowing, he can be attacked normally. He will do this whenever given an opening. Rei will also dig holes. While he is digging, any dirt that is "sprayed" up will damage Amaterasu on contact. If Amaterasu falls into a finished hole, she is trapped, and Rei and the other Canine Warriors may urinate on her, similar to Golden Fury. There is also an attack similar to Brown Rage that Rei uses, leaving small pellets that explode with the force of a Cherry Bomb. These can be dodged, but only if spotted on time. Rei can also dodge attacks easily with backflips, spins, and quick movement on his feet. A Rosary is very useful in this fight. The Celestial Brush Techniques are the greatest weapon in this battle. Cherry Bomb, when placed correctly, can copletely stop a charge, as well as damaging the Canine Warriors. Veil of Mist shows openings and makes it easie to avoid attacks. Purely offensive moves won't damage the Warriors, but it will stun them, also providing openings for attacks.