---
This article is incomplete.
Reason: Information of the constellations from Ōkamiden needed.
Please feel free to add the missing information and fill in the missing sections.
PLEASE DO NOT ADD SPECULATION OR IRRELEVANT INFORMATION.
---
This article is outdated, and needs some up-to date information.

You can help Ōkami Wiki by updating it.
Reason: Information on Ōkamiden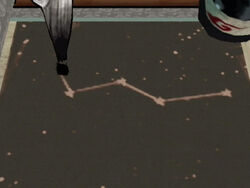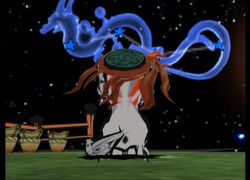 In order to regain their powers, Amaterasu and Chibiterasu must seek out the
Celestial Brush gods
to restore the balance of nature to the land of
Nippon
. The Brush gods have hidden themselves in
constellations
with any number of stars missing.
Summoning the gods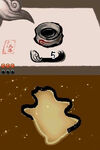 In
Ōkami
constellations are usually found upon completing a certain task. Once the task has been completed
Amaterasu
with see a light shining down from the sky. Upon looking at the light, a set of large stars will appear and an image showing the shape of a Brush God will appear. The basic shape is made up of a group of stars but there will be some missing. The Brush Gods can be summoned by using the
Celestial Brush
to draw the missing stars.
In Ōkamiden the constellations seem to be located in the sky above a statue of their respective Brush God. Upon barking at the statue the constellation will appear in the sky. Chibiterasu must then draw the outline of the constellation.
Constellations
Ōkami

| Image | God | Location |
| --- | --- | --- |
| | Yomigami | River of the Heavens |
| | Tachigami | Cave of Nagi |
| | Sakigami | Hana Valley |
| | Hasugami | Kamiki Village |
| | Tsutagami | Tsuta Ruins |
| | Bakugami | Shinshu Field |
| | Nuregami | Sasa Sanctuary |
| | Yumigami | Agata Forest |
| | Kazegami | Kusa Village |
| | Moegami | Moon Cave |
| | Kasugami | Imperial Palace |
| | Kabegami | Catcall Tower |
| | Gekigami | Oni Island |
| | Ninetails | Oni Island |
| | Itegami | Wawku Shrine |

Ōkamiden

Below is an incomplete list of the constellations in Ōkamiden.
See also
Ad blocker interference detected!
Wikia is a free-to-use site that makes money from advertising. We have a modified experience for viewers using ad blockers

Wikia is not accessible if you've made further modifications. Remove the custom ad blocker rule(s) and the page will load as expected.