---
This article is incomplete.
Please feel free to add the missing information and fill in the missing sections.
PLEASE DO NOT ADD SPECULATION OR IRRELEVANT INFORMATION.
---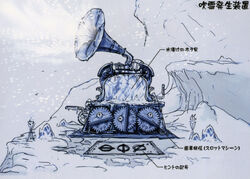 The Blizzard Machine is what Lechku & Nechku used to trap Itegami and cause a horrible blizzard over Kamui.
Description
The Blizzard Machine resembles an old Western record player, with 3 large cog wheels on the outside. The device holds Itegami captive, forcing him to be the ice source of the machine. The sound piece of the device is the output of the snow and ice, and on the side of the machine is a lever, which is usually frozen. By striking this lever at certain moments, the machine can be deactivated.
Deactivation
After battling the Great Tengu near the Blizzard Machine, go to the left of the machine, then use Inferno (Fireburst) on the lever to melt the ice on it and make it usable. Then, use Veil of Mist to slow down time and the wheels, then Power Slash the lever when the eye of the first wheel reaches the topmost position. Power Slash the lever again when the eye on the second and third wheel reaches the rightmost and leftmost positions, respectively (follow the diagram below).
Gallery
Trivia
Originally the images showing which positions to stop the cogs in were at the foot of the machine (as seen in the concept art above). However, in-game they are found in a cave near the machine.
Ad blocker interference detected!
Wikia is a free-to-use site that makes money from advertising. We have a modified experience for viewers using ad blockers

Wikia is not accessible if you've made further modifications. Remove the custom ad blocker rule(s) and the page will load as expected.